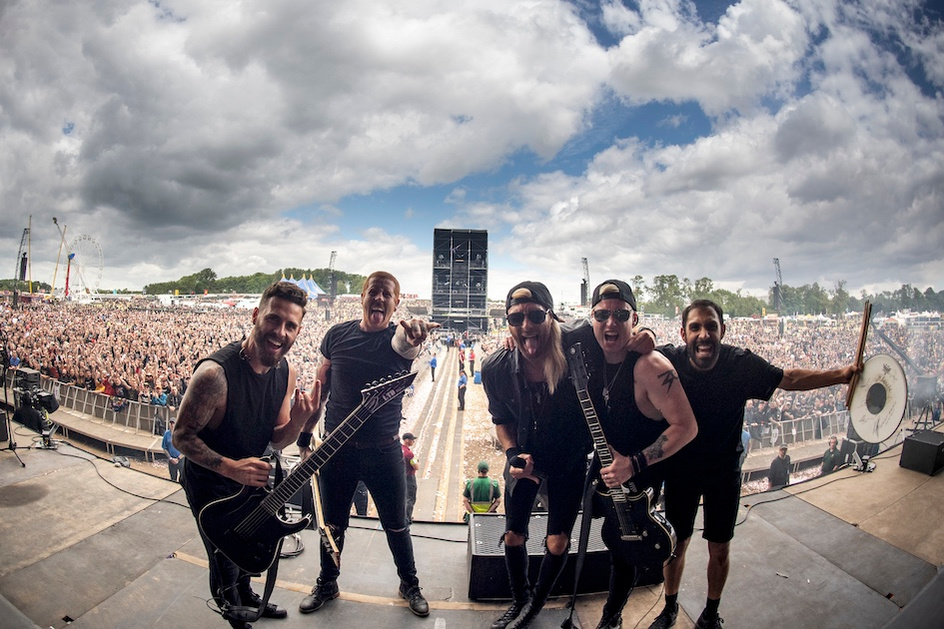 ANNOUNCE NEW ALBUM BLOOD OMEN
OUT 7TH JULY VIA MUSIC FOR NATIONS

IRON MAIDEN SUPPORT & UK
NOVEMBER HEADLINE TOUR
The Raven Age have announced their highly anticipated third album Blood Omen. Out July 7th, it is their first record with Music For Nations/Sony Music. The album is available to pre-order now here. Having established their name as one of the finest in modern British metal, thanks to two brilliant albums, 2019's Conspiracy and Darkness Will Rise debut in 2017, The Raven Age have garnered over 75 million streams worldwide and have toured heavily across the globe.

For the Essex quintet's "all-important third album", as guitarist George Harris puts it, they have expanded on every level.

This motivation is written into the album's concept. Following the theme of its two predecessors, the raven motif looms large, this time centering on the overthrowing of old masters, with the band's Raven King character coming to prominence.

Blood Omen pushes everything further than ever before. The choruses are made for arenas, the riffs are taut, direct, and free of fat. It all makes for a grand musical stage on which the record's concept plays out. 'Forgive & Forget' rushes in on a scalding lead guitar riff, while the epic 'Nostradamus' is a tale of the great prophet. The heavy, raging 'Serpents Tongue', meanwhile, deals with "deceit, and never knowing if you're being told the truth," according to George.
To capture all this on record, the band enlisted the help of long-term producer Matt Hyde (Slipknot, Machine Head, Bullet For My Valentine) to lay down the album's framework, before setting to recording the rest of the album themselves. The final mastering was put into the treasured hands of Mika Jussila at Finnvox (Nightwish, Children of Bodom, HIM).

Blood Omen is a record of several firsts for The Raven Age. With the metal end of the operation firmly nailed down, this time around the band were finally able to realise their ambitions of using real strings. Working with noted British cellist arranger Audrey Riley (Foo Fighters, Muse, Coldplay) at the ICMP [Institute of Contemporary Music Performance] studios in London. "Watching a quartet play along to our songs was a whole new experience," says George. "They just made everything more dramatic."

The album also sees the recorded debut of new guitarist Tommy Gentry, the prodigiously talented axeman – whose previous work includes stints with Marco Mendoza and former Judas Priest six-stringer KK Downing.
Blood Omen is a strong, focussed, and ambitious work from one of the most rapidly rising rock bands in Britain and live they solidify this status. They have performed over 400 shows internationally across 38 countries including major festival performances such as the main stage at Download Festival, Rock in Rio, Wacken, Hellfest and many more, as well as touring with the likes of Killswitch Engage, Volbeat, Shinedown and Alter Bridge.

This summer they will be touring arenas across Europe and the UK with Iron Maiden, including London's O2 Arena on July 8th. They have also been announced to perform at a number of major European festivals this summer including Germany's Rock am Ring, Belgium's Graspop Metal Meeting, Return Of The Gods Festival in Italy, Sweden Rock as well as Metal Days in Slovenia.
THE RAVEN AGE TOUR DATES 2023
July
8th – London, O2 Arena supporting Iron Maiden

November
HEADLINE TOUR
5th – London, Lafayette
7th – Manchester, Academy 3
8th – Glasgow, Attic
11th – Belfast, Limelight 2
13th – Birmingham, Asylum
15th – Bristol, Exchange