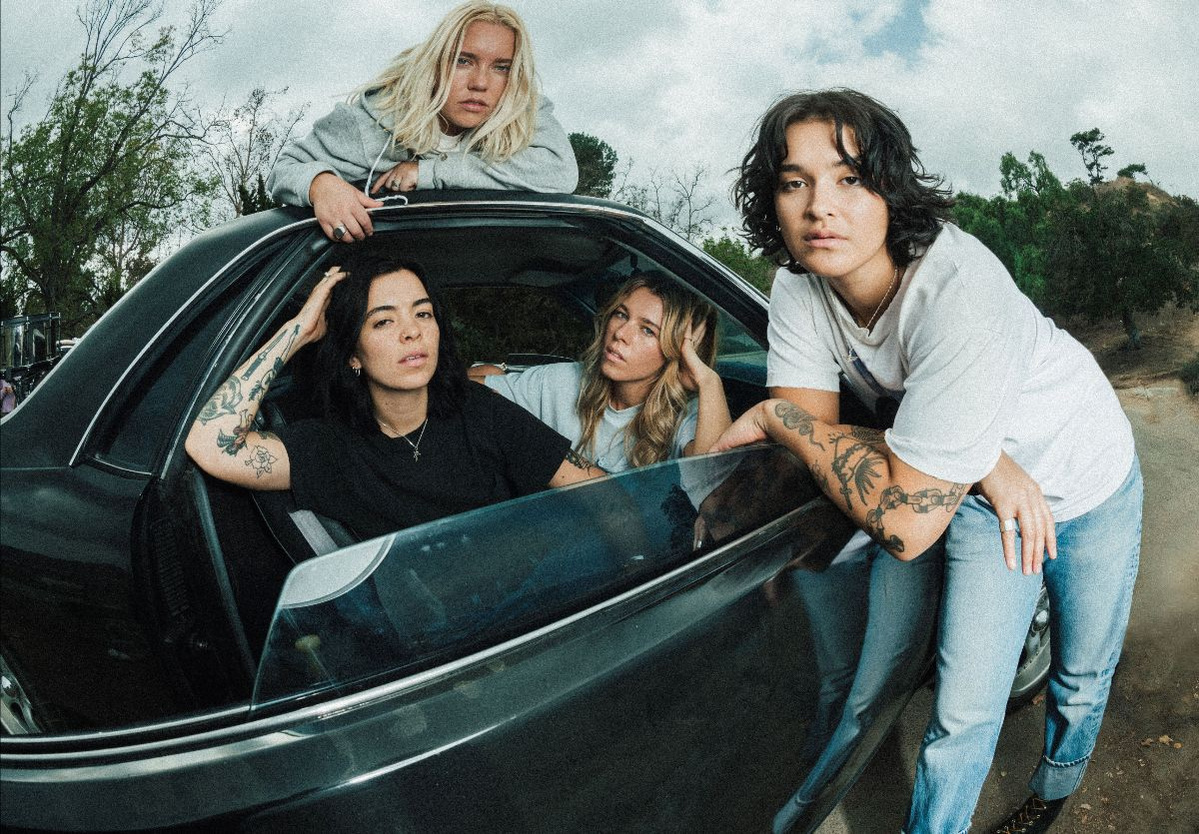 THE ACES - NEW ALBUM :
"I'VE LOVED YOU FOR SO LONG"
In the years since The Aces released their acclaimed sophomore album, Under My Influence in 2020, the band has been on a journey of self-discovery. Faced with the realities of a global pandemic, sisters Cristal and Alisa Ramirez (lead vocals/guitar and drums, respectively), Katie Henderson (lead guitar/vocals), and McKenna Petty (bass) used quarantine as a time to reflect, confronting personal mental health issues as well as processing experiences they'd had growing up together in Provo, Utah, as part of the Mormon church. When The Aces returned to the studio, their vision — and the honesty and trust between them — felt stronger than ever. The result of this growth period is I've Loved You For So Long, the band's third LP. Written and executive-produced by the group (along with Keith Varon, the sole collaborator on the project), the album is a sparkling indie-rock record that's by far their most personal and self-assured work to date. From tracks that ruminate on mental health and self-sabotage to searing anthems about love, longing, and heartbreak, I've Love You For So Long is a record that'll work its way into your head and heart — and will have you singing along all the way through. I've Loved You For So Long is also an opportunity for The Aces to reach new heights and build on their many previous successes. To date, the group has earned over 205 million career streams; Under My Influence alone garnered more than 75 million (including 35 million on its lead single "Daydream"). The album also appeared on numerous charts, including #53 on Billboard's Top Albums list. Further, The Aces have toured with the likes of 5 Seconds of Summer, X Ambassadors, The Vamps, and COIN, and have played at festivals all over the world, including NY Pride, Lollapalooza, Firefly, Bonnaroo, OUTFEST, and more. After selling out their last U.S. headline tour in 2021, the band will hit the road again this year, with dates soon to be announced.
Fans of "Under My Influence" the bands last LP release have waited with breath that is bated for this new record! The Aces are a beacon of hope and joy for the new generation of Alt Pop fans. Speaking to us with their soft spoken, emotive lyrics but hooking you with their infectious and moving melodies. On first listen the album runs from track to track telling us a story of youth, heart break, finding yourself and your people. Stand out tracks are multiple - these tunes are infectious, lead single "I've Loved You For So Long" is an absolute winner as is "Not The Same", "Suburban blues" and "Miserable" because it talks to our inner Emo.
The Aces are in the realms of Paramore's "After Laughter" with their ability to talk about life real problems and difficulties, but put a happy tune and a catchy melody to it, which just makes that pain easier to deal with.
Another absolutely beautiful album from this fab U.S four-piece, a must for fans and new listeners alike.
Check out the lyric video from the album, "Attention":