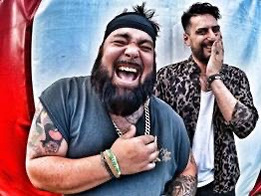 Uncle Frank Return With New Single, Fourth Album Confirmed For Autumn
Uncle Frank are set to return with the release of their new single 'Mary Jane' on 28th April - the first track to be released from the band's fourth album 'Diablo', which is set for release in September.

'Mary Jane' is the first glimpse of the rock 'n' soulers' "bigger, beefier guitar and drum sound" that frontman Frank Benibi and guitarist Naim Cortazzi have been working on at their Make It Nice Studios, based in a secret location in their hometown of Leicester.
Benibi, who for the past twenty years has also been the drummer in the Fun Lovin' Criminals, said, "Mary Jane is about the merry-go-round of having too much fun and not knowing when to stop; the addiction of needing something or someone that is beautiful yet toxic."

Uncle Frank was formed in 2003 by Frank and guitarist Naim Cortazzi (who is also a member of the Fun Lovin' Criminals), although the pair met years before they formed the band, working night shifts in a Banana Warehouse.

Years later, an unplanned reconnection quickly turned into regular recording sessions within the attic of an abandoned mill, and the strong musical brotherhood they formed quickly evolved to become Uncle Frank.
Channelling influences from the likes of Rival Sons, ZZ Top, Clutch and Lenny Kravitz, Uncle Funk released the albums 'Smiles For Miles' (2014), 'Love Lion' (2017) and 'Soul on the Battleground' (2019) to critical acclaim and airplay from BBC Radio 2, BBC 6 Music and BBC Introducing, amongst others.

This led to countless festival appearances and UK tours with a disparate array of artists, including Paul Heaton, Reef and the Craig Charles' Funk & Soul Club tours, as well as touring regularly in the USA.

An array of music videos to complement the band's output have since racked-up over 500,000 views on YouTube, while Frank himself has been presenting on BBC Radio for the past five years, hand-picking the tunes every Sunday night and (as Frank would definitely tell you) never a bad song played!