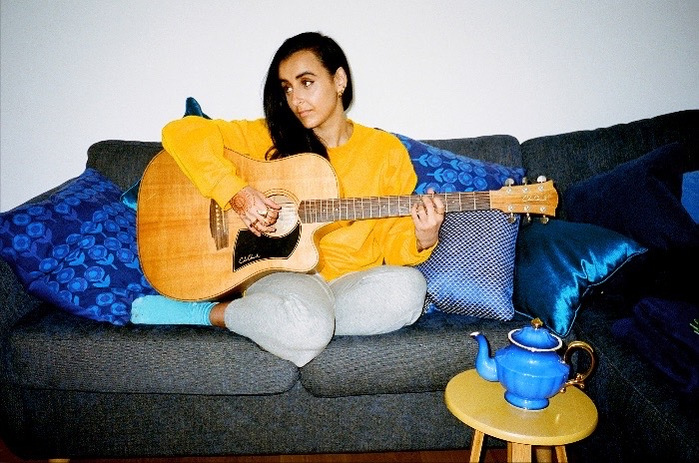 MAIMUNA MEMON SHARES THE NEW SINGLE 'INSOMNIA'
Maimuna Memon's recent debut single 'Sinner' added a new element to her multifaceted artistry, which has already see her win The Fringe First Award for her self-written, one-woman show 'Manic Street Creature' as well as an Olivier Awardnomination for her role in the Richard Hawley musical 'Standing At The Sky's Edge'. Now she adds another layer to her leftfield pop credentials as she shares her new single 'Insomnia'.
With 'Insomnia', Maimuna takes us into the intimacy of the small hours with a love interest, the long sleepless nights awakening a wealth of questions and vulnerabilities that remain undisturbed during daylight. Her lyrics mirror her talents as a playwright as she evocatively depicts a situation in which time seems to simultaneously drag on for an eternity and drift by. The voice that made her a stand-out talent in 'Standing At The Sky's Edge' again shows its class, but here Maimuna proves that she's just as adept at expressing serene moments of tenderness. It's also a song which showcases her wider musical talents as she performed every instrument that features on the track.

Maimuna says, "Insomnia. One sleepless night leads to two, two lead to four, four lead to many more. This song is about the intimacy of sharing a bed with someone and what we learn about them during that time. It is about trust and falling in love. It is about allowing someone to see our most vulnerable moments."

Maimuna wrote 'Insomnia' and then co-produced the track with Charlie Andrew (Alt-J, Wolf Alice, London Grammar).

Also upcoming on Maimuna's schedule is the debut London run of 'Manic Street Creature', details of which will be unveiled soon. Straddling the boundaries between the worlds of theatre and the music industry, the show documents the process of making an album on stage - a concept album musical. Each song in the show reflects upon a memory of a relationship as well as wider themes of compassion exhaustion and manic depression.
Music was a constant presence in Maimuna's early life as she was raised in Darwen on the outskirts of Blackburn. She studied the violin using the Suzuki method, before broadening her talents to include piano, drums, guitar and harmonium. The daughter of an Irish mother and a Pakistani father, she grew up in a largely white area where she struggled to find her place and connect with her family heritage - an issue that grew more challenged by a sudden move to Australia in her teens. That changed when she discovered the concept of third culture kids: children who spend their formative years away from their parents' homeland and therefore experience both challenges and advantages that come from having a less defined cultural identity.

She subsequently graduated from drama school and co-founded a theatre company, all the while writing music and acting. Maimuna's goal was always to bring music that can be heard on record to the stage. She first merged these two worlds at the Edinburgh Fringe with the gig / theatre show 'Electrolyte', which explored grief, depression and psychosis. She brought this similar form of music writing for the theatre into shows for The Dorfman, The Almeida and The Globe Theatre, and most recently for 'Manic Street Creature'. Her introductory artist tracks also made a big impression, with 'Calling' and 'First Born Child' picking up support from Self Esteem. Jessie Ware, Jamz Supernova, NME, The Line of Best Fit, The Guardian and The Independent.