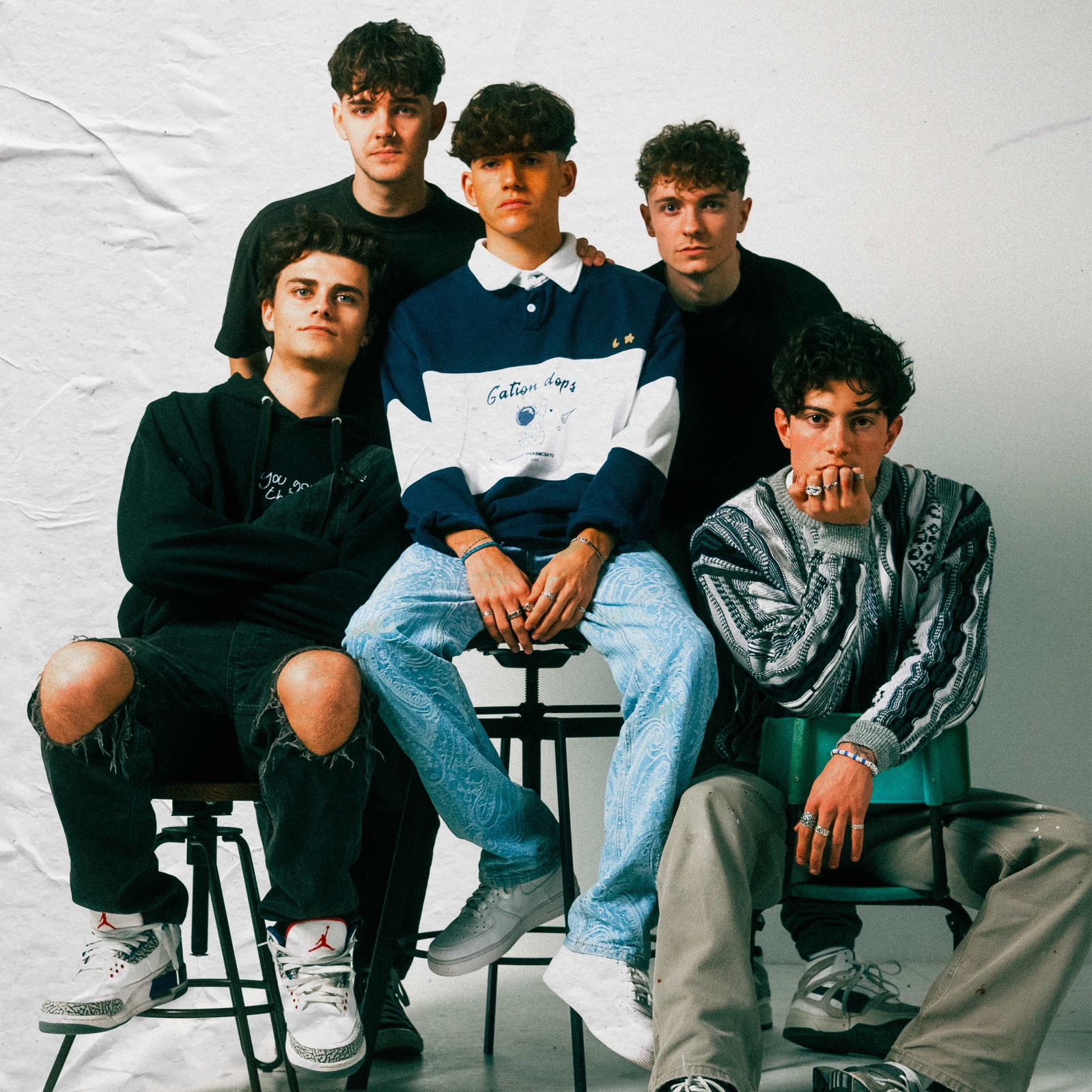 HERE AT LAST ANNOUNCE THE HAPPY YOU'RE HERE UK TOUR
INCLUDING LONDON'S INDIGO2
AND REVEAL COVER OF NIALL HORAN'S HEAVEN
The UK's new favourite boyband Here At Last, have today announced that they will be heading back out on the road for a 5-date tour in October. The five-piece who have 3 million followers on TikTok and 100 million likes across their videos, have also announced the release of their stunning cover of Niall Horan's Heaven.
Here At Last, who despite being unsigned have already sold out multiple tours including Shepherd's Bush Empire on the last run, are kicking the Happy You're Here UK Tour off in Glasgow on 20th October, before visiting Birmingham, Manchester and Bristol and wrapping on 25th October at IndigO2 in London. Tickets go on general sale on Friday 28th April and are sure to sell out fast. They will also be available from O2 Priority pre-sale from the 26th April and a Live Nation pre-sale from the 27th April. Speaking of the tour, the band have said, "The 'Happy You're Here' Tour has been so anticipated ever since our show at Shepherd's Bush Empire in February. We had the best time and can't explain how excited we are to get on the road again. We will be going to cities we haven't been to yet including Birmingham and Glasgow. The idea behind our tour name was to emphasise the fact that without the fans travelling to shows and showing us support online that none of this could be possible. We are incredibly grateful for all their support and this will can't wait to give them the best show yet." The five-piece also today announced their stunning cover of Niall Horan's Heaven. The stripped back track will be released on Friday 21st April and will be available on all streaming platforms. The following week they will be revealing a special new version of fan-favourite Tongue.
Here At Last said, "When we heard Niall Horan's single Heaven, we knew we had to make a cover of it. We have slightly slowed it down into more of a ballad which allowed us to play around with the vocals a little. With this, we are re-releasing Tongue and as it is a fan favourite, we are excited to see people go back and listen to what started our careers." The band kicked off 2023 with an incredible sold-out tour, playing Shepherd's Bush Empire, Manchester Club Academy and The Exchange in Bristol, and they don't intend on slowing down! Gearing up for a summer of unheard tracks, the band will be releasing EP1, their debut EP on the 15th August.
Earlier this year, the band revealed their latest single Bloodshot, with the video created using both official footage and videos sent in from fans from their sold out shows. Bloodshot is the follow up to tracks Happy, which has had over 7.3 million streams on Spotify and over 280,000 creations on TikTok. Despite being unsigned, their previous songs have received phenomenal support including from Spotify and Apple where they have been added to many playlists globally. On the day of release, Bloodshot was added to Spotify's New Music Friday and Apple's New Music Daily. They have had hundreds of plays across radio including at Radio 1 where they have had 12 plays and were picked as Mollie King's Best New Pop. They have also been featured on Sunday Brunch, they have performed twice on CBBC's Saturday Mash-Up and they have also been mentioned within a storyline in Channel 4's Hollyoaks. They are also picking up various celeb fans with Lewis Capaldi sharing their cover on his instagram and Danny from The Script worked with them and co-wrote their previous single, All In. Currently living together in Reading, England, Here at Last, have made the leap from obscurity to one of the biggest band's on TikTok in just a couple of years. Zach Loizou (from London), Tommy Lyon (from Exeter), Pedro Santos (from Portugal), James Thomas (from Leyland) and Ryan Burns (from North Wales) had all been sharing covers and videos online individually but had been discussing meeting to form a band, when lockdown hit. With a huge leap of faith, and despite only being teenagers, they decided to move in together so they could give it their best shot. On top of the busking and TikTok, the band visit schools during the week, performing and educating students about the importance of mental health (tying in with charity Young Minds). For an aspiring pop act, the absence of major label backing or a TV talent show breakthrough has traditionally meant a long, hard road to nowhere but Here At Last are breaking that traditional mould with their growing army of fans.