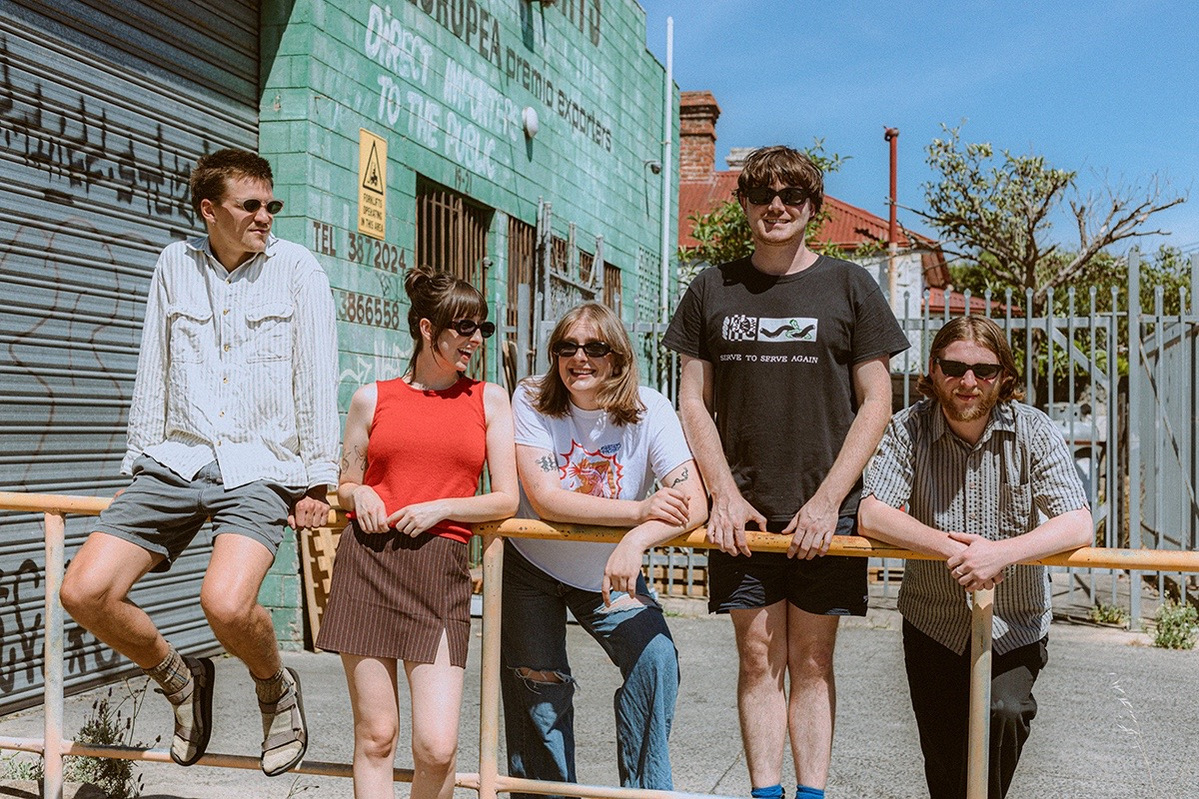 DELIVERY RELEASE VIDEO FOR CATCHY
'POOR TO MIDDLING MONEYMAKING' AHEAD OF UK TOUR

DEBUT LP 'FOREVER GIVING HANDSHAKES'
UK RELEASE ON MAY 19TH
Melbourne's upcoming garage-punks, Delivery announce new single, Poor To Middling Moneymaking taken from debut album Forever Giving Handshakes. The album will see a UK release on May 19th via Anti-Fade/ Spoilsport / Feel It Records.

Known as the very first song that Delivery pieced together by James Lynch and Rebecca Allan in lockdown of 2020, Poor To Middling Moneymaking mixes fast-paced, spiky, angular garage riffs with laser-tight drumming and driving, catchy melodies, making it a live-show fave.
"A funny thing about Poor To Middling is that you can kinda hear us trialling out a bunch of different ideas for what the band might sound like - straight rhythmic ideas and then constantly shifting chord progressions, shouty vocals crossed with more melodic hooks, weird time signatures and plenty of random quirks that we never got rid of," explains singer James Lynch. "We released a demo version of this track before we'd even fully committed to starting a new band - I guess releasing it ended up being a bit of a confidence boost though because Delivery's dynamic didn't change too much from there. It is funny thinking back that we were probably just throwing stuff at the wall to see what would stick, and in the end, the majority of it somehow stuck, ha-ha!"

The track highlights creativity versus conventional work alongside obvious financial pains that affect us all. Something that every band has in common at the very beginning with the realisation of commodifying creativity to sell a product.
"I'm not a very grumpy person, but maybe the turbo music made me want to rant a bit because I say a whole lot of shit in this song," laughs Lynch. "It's a bit confusing and contradictory, but I like that - it's equally about how I think it's sorta stupid to view creativity as some kind of magic thing that happens without any genuine effort, but it's also about how someone's creativity can sorta be dredged in the name of business. I guess neither are really that evil - I just think making things can be cool, and sometimes that's all it needs to be. But then again, money is also good… and the contradictions continue."

Following the introduction of the synth-punk single Baader Meinhoff, Poor To Middling Moneymaking is the second single to be release from Delivery's debut album Forever Giving Handshakes - a 12-track garage-punk opus, their five distinct voices simultaneously pulling songs in different directions while an undeniable chemistry reveals a combined hive mind ascending on a clear group mission… to rock.

The band will be heading to the UK for their debut UK tour this May. Find all of the dates below and witness their amazing live show personally, where maybe, you could even play live onstage with them…