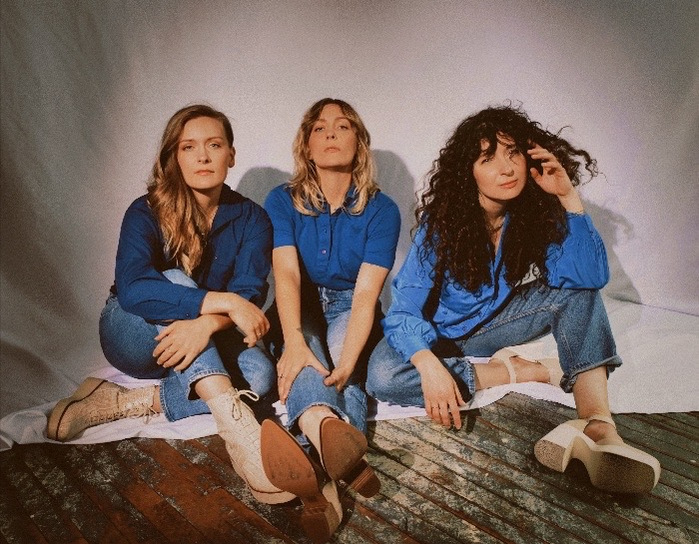 JOSEPH, INDIE POP SISTER TRIO, RELEASE "FIREWORKS" – AN EPIC POP ANTHEM ABOUT REFUSING TO SETTLE IN LOVE
"As always with the group, band synergy is one thing, but harmonies between sisters like those offered here just can't be faked. "Nervous System" kicks off the new era for Joseph with a bright, empowering spark." - Consequence

"That's a song that's going to help a lot of people. It's a smash" - Zane Lowe

"The Closner sisters sing beautifully, sure, but they share their voices in the service of songs about fearlessness, commitment and the pursuit of a life fully lived" - NPR Music
Following a sold-out performance at Shepherd's Bush Hall last night, indie pop trio JOSEPH release their wildly effervescent new single "Fireworks" ahead of the release of their fourth LP The Sun (April 28, ATO). The new album embraces a bold new pop sound that lets their 3-part harmonies shine brighter than ever and tells the story of the Closner sisters embracing therapy, emotional breakthroughs, empowerment and encouraging listeners to ask "what if I'm more than I think I am?" The release is further accompanied by an acoustic set and signing at Rough Trade West tonight and then an opening set for James Bay at Royal Albert Hall tomorrow.
"Fireworks" is an epic, stadium-ready anthem about refusing to settle, accompanied by a gorgeous music video showing the three sisters on the road, directed by Justin Frick. The band speaks to the self-doubt and frustration that sometimes accompany refusing to compromise your romantic ideals, and the song was inspired by an unlikely source.
Says Allison of JOSEPH, "This song was inspired after my sisters and I binged the UK version of Love Island season 6. Everyone is walking around in bathing suits and falling in love - it's perfect. I was fascinated by how many times 'what's your type' was asked, only to have the response be 'tall, dark, and handsome'. I would think, why isn't anyone saying 'fireworks'? There's a line in the song, 'I don't want to just settle now, put my fire underground', and to me it symbolizes wanting to feel like that fire is being fed by something deep and meaningful - not settling for anything less than FIREWORKS."

Over the course of The Sun's 10 soul-stirring tracks, each member of Joseph adds new texture and detail to the album's emotional arc by sharing her own distinct viewpoint on the journey toward self-realization. On the sweetly emphatic lead single "Nervous System," for instance, Allison opens up about learning to undo the thought patterns that contributed to her longtime struggle with anxiety. "The Sun" was inspired by Meegan's experience in working through the lessons of a past relationship and the moody cinematic grand opening "Waves Crash" was inspired by Natalie's inquisitive self-reflection and unlearning religious doctrine.
"All of our therapists were a huge influence on this album," Meegan noted. The Sun endlessly reveals Joseph's commitment to the clear-eyed self-reflection that's guided the band since their earliest days.

In bringing the album to life, Joseph worked with acclaimed producers like Tucker Martine (My Morning Jacket, First Aid Kit, Laura Veirs), Christian "Leggy" Langdon (Meg Myers, Amos Lee, BANKS), Jessica Dobson (Deep Sea Diver), and Joey Burns (Calexico), alongside songwriting collaborators including Tayla Parx and Wynne Bennett, known for their work with artists such as Janelle Monae, Twin Shadow, Haim, Khalid, Normani and Ariana Grande.

With the band taking a decidedly more hands-on role in the production process, The Sun continually achieves the exquisite feat of spinning incredibly complex concepts into sing-along-ready pop songs, providing a captivating backdrop for Joseph's fearlessly personal storytelling.

"As Closners and as women—or maybe even just as humans—it can be very hard to tell someone that something isn't working for you," says Allison. "But this album was a unique experience, because we learned to step up and stand our ground and speak our truth when we needed to." With the release of The Sun, Joseph hope that listeners might undergo a similar transformation in their sense of strength and self-assurance. "I want people to feel empowered," says Meegan. "I want them to recognize the power with themselves, and to know that they're good—that they're more than they think they are."