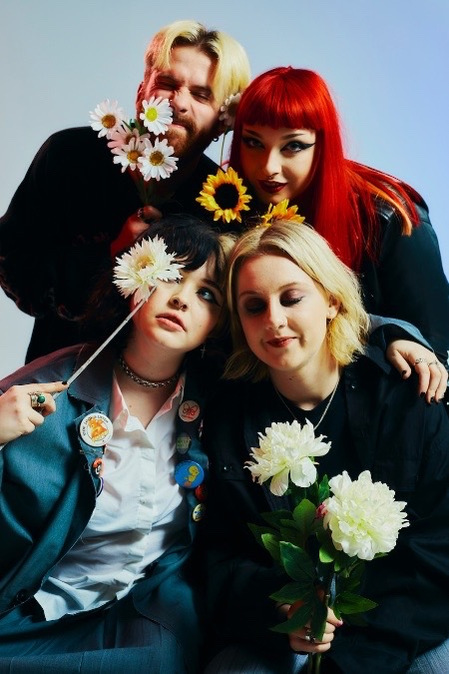 CRAWLERS EPITOMIZE THE FEELING OF MISSING YOUR YOUNGER SELF WITH NEW SINGLE "THAT TIME OF YEAR ALWAYS"
Following the release of their explosive debut mixtape "Loud Without Noise", and their visually stunning "Loud & With Noise" Live Sessions, Crawlers are signalling a new musical chapter with the release of their reminiscent new single "That Time Of Year Always" via Polydor. To the tune of a driving guitar line and crashing drums, across the track lead singer Holly Minto adopts reminiscent lyricism to tell a story of love and loss in blissful hindsight. On the inspirations behind the new offering Minto shares, "That Time Of Year Always encompasses the feeling of envying your younger self before the trauma hits in your early 20's. It's about missing the ignorance that you had in your childhood; that reflection process which usually happens for me during the winter seasons. Being older, you realise that despite thinking these thoughts stem from seasonal depression, it's normal to feel that longing for your youth all year round, and to constantly have your younger self in mind when reminiscing about what once was". Thus, Crawlers have timed the release of the new single to align with the start of spring. Further elaborating on the sentiment behind the song, whilst creating an atmosphere around the release that invites their audience to experience a snapshot into their world, told from their own perspective.
ABOUT CRAWLERS
Since forming in 2018, CRAWLERS' Amy Woodall, Holly Minto, Liv Kettle and Harry Breen have come a long way from playing small gigs in their hometown of Merseyside. Having seen massive chart success last November with the release of their debut mixtape "Loud Without Noise", in tandem with a string of sold out headline shows across the UK in the same month, Liverpool's hottest new rock export have proven themselves to be on a trajectory to conquer both the live and streaming spaces respectively in 2023. Aside from their incredibly infectious grungy musical explorations that continue to capture the zeitgeist of their generation and beyond. The bands' authentic approach to managing their social presence has meant that their knack for injecting their personal tales into universal singalongs has connected on a mass scale. Using their status is of vital importance to what CRAWLERS are about. "It's really hard to find a safe space – especially for young people, queer people, and other misrepresented or underrepresented groups – and being able to do that with our platform is something we're looking forward to exploring and breaking boundaries with," they say. The band's debut self-titled EP (2021) was released on Modern Sky/Lab Records and lead track 'Come Over (Again)' clocked up over 34 million streams on Spotify, 1.8 million views on YouTube and was a Radio 1's Tune Of The Week. It became the band's first hit when it crashed into the Official UK Singles Chart, with Dork Magazine describing the band's "ascent" as "coming at a time when emo has stopped being an insult, and that melodramatic music is resonating with a new generation". Their first Polydor release 'I Can't Drive', released in January last year, was a Jack Saunders Tune Of The Week on Radio 1, receiving rave reviews from key stakeholders in the alternative press from Kerrang! to Clash, DIY and Sunday Times Cultures. Following their first head-turning release on a major label, NME described CRAWLERS as an act "embodying what it means to be a young band for the current moment - fluid in style, chronically online and willing to take on difficult subjects in a thoughtful way"
After supporting My Chemical Romance on tour last May, performing at Radio 1's Big Weekender, embarking on a sold-out headline tour in North America last June, and their own sold-out EU/UK headlining tour last November, CRAWLERS are one of the most hotly-tipped live bands in the UK for 2023. Furthermore, the release of their debut mixtape 'Loud Without Noise' cemented their global status and contributed to the band achieving the massive milestone of 80+million streams on all catalogue to date across DSP's. Bolstering the buzz around the mixtape, single "Too Soon" was plucked as Clara Amfo's Hottest Record in tandem with heavy support across Radio 1 during release week, with their subsequent appearance on Radio 1's Maida Vale Sessions with Jack Saunders cementing them as a national mainstay. Following their whirlwind rise and all their recent successes, it's doubtless to say that CRAWLERS are headed for the big leagues. CRAWLERS are Holly Minto (she/they), Amy Woodall (she/her), Liv Kettle (she/they) and Harry Breen (he/him).